As Western New York begins its reopening after the COVID-19 shutdown, those in the agriculture industry need to be aware of New York State requirements permitting operation.
All agriculture operations must:
Review summary guidelines for Non-Food Agriculture Summary Guidelines.
Read and affirm Detailed Guidelines for Non-Food Agriculture (affirmation on page 10).
Print and complete for your operation a Business Safety Plan, to be retained on the premises of your business.
The link below will take you to the NY Forward website where required resources may be found:
https://forward.ny.gov/industries-reopening-phase#overview--reopening-in-phases
Short Video
For a helpful video of the steps involved, please visit the post "Reopening Phase One on May 19" on the Catt. County Business Help website.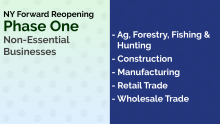 Questions?